AKIRA IKEDA GALLERY / PAST EXHIBITIONS
---
Ann Hamilton : the pictur is still
May 19, 2001-May 18, 2002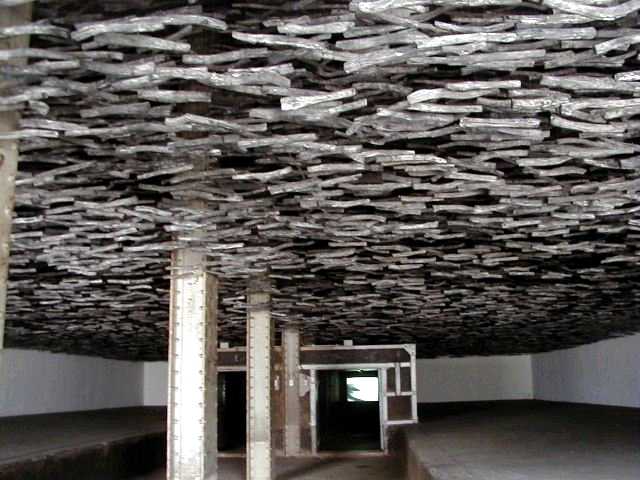 Ann Hamilton's "the picture is still" is shown at Akira Ikeda Gallery / Taura from May 19, 2001 till June 30, 2002. The artist visited Japan in the summer of 2000 to investigate the history and the environment of Taura in Yokosuka, Kanagawa Prefecturein Japan. The gallery space is located next to the harbor and this installation includes the "Dry Ocean" created by more than 130,000 Japanese charcoals hung from the ceiling with threads, the DVD projection and sounds. As requested by the artist, this project was completed with the help of local volunteers. It took 2 weeks and 600 people were involved in the making. The size of the space is 15 meters in width, 27 meters in length, 4 meters in height. Charcoals are suspended through out the space down to 280 cm from the ceiling, that is 150 cm from the floor. In the center of the gallery, there are two tunnels, which are 12 meters in length and 2 meters in width. DVD projection is installed on both tunnels. This DVD was created for this show. The image is projected directly on the metal door using a projector. A digital camera following a black and white photograph of a child's face creates the image. During the filming, the camera was so close to the photo that one would not see the whole picture. The sound from the DVD is the artist whispering and a child whistling, but slowed down to create a drone.
Installation was started on May 2 and finished on May 16.
For more information, go to www.akiraikedagallery.net
"the picture is still" is open by appointment only. Please contact taura.jp@akiraikedagallery.net to make an appointment.